Bosch Injection Pump Strip

Introduction
The following is a guide to stripping a Bosch Diesel Injection Pump in order to replace leaky seals. This pump had been used on a vehicle running 100% vegetable oil for an extended period. Upon disassembly, the seals were found to have hardened, leading to a personal belief that using high vegetable oil ratios is detrimental to the pump seals.
The job is difficult and must be carried out in clinically clean conditions with great care. The pump used in the illustrations was scrap and hence the far from ideal conditions it was dismantled in. before doing this job for real, I recommend a practice run on a scrap pump.
I do not warranty any guidance contained here. You use these procedures entirely at your own risk.
The pump in question is a Bosch semi-electronic pump as found on many PSA vehicles from the min 90s on. The general principles apply to all Bosch pumps.
Tools Required
The following are required :
A set of Torx Bits

A set of Allen keys

A small pair of pointed-nose pliers

An indelible marker and/or scriber

A large hammer drill and masonry bit (Yes, really, to remove the armour!)
Pre-strip work
The Pump must be removed from the vehicle. This procedure cannot be carried out in-situ.
Give the exterior of the pump a thorough clean so that it shines like new. This is firstly to make it nice to work on and secondly to prevent any ingress of dirt inside the pump, which can be fatal to it. Drain as much diesel out of the pump as possible and be aware that some people are allergic to diesel fuel and can develop contact dermatitis. Wear protective gloves.
Many of these pumps are armoured to hinder access to the stop solenoid by thieves. This armouring must be removed before proceeding with the main strip.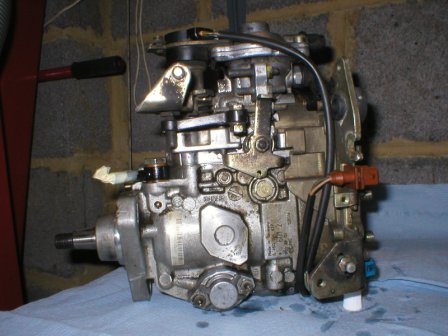 Page last updated 04 October 2008
Continutes next page...